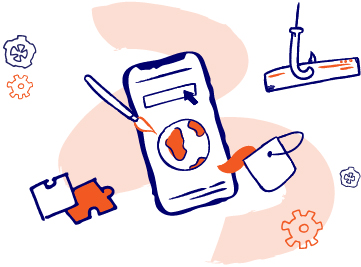 Mobile Apps / Feb 12, 2021
How Mobile Apps Will Shape 2021 and Beyond
With millions of users interacting with one another and with businesses via their mobile devices, it has become crucial that every business be present on the mobile ecosystem. Businesses that have not yet replicated their brick and mortar store on the digital landscape will sooner or later have to be present within their customers' smartphones. It is just the need of the hour, and as the pandemic changed the entire world of business, it is even more important now to have your business be easily accessible on mobile devices. As a leading name in mobile application design and development company, Virtual Force understands this clearly and is ready to take digitally transform businesses.

Here's a brief overview of how and what a mobile app design and development company can help you achieve:
Creating Consistent Touchpoints
Mobile devices help businesses in creating multiple touchpoints that can generate interest and revenue. Starting from something as simple as an ad posted on a social media platform to actually engaging the user on a natively-built business app. As the usage of smartphones slowly replaces that of laptops and desktops, we see that there are many levels on which a business can touch base with its consumer. First can be ads, second can be a mobile-ready website, and third can be creating a business app that provides the actual service you're offering.
Offering Immersive Experience
Since mobile devices are handheld and more engaging than laptops and desktops, there is a clear opportunity of offering a far more immersive experience. This is a potential opportunity for businesses to engage their customers in a more meaningful way. Consider bringing augmented reality, virtual reality, and mixed reality into the arena. When Pokemon Go was launched, it quickly became a huge success because of two reasons; the franchise had a huge following beforehand, and because the game was so immersive that people loved the experience. With emerging technologies such as AR, VR, and MR, any business can enhance their user touchpoints by simply reimagining the engagement and experience.
Ensuring Personalized Content Delivery
One thing that IKEA does really well is invoking the psychological need to own a product. Every other IKEA product can be assembled by the customer. What this does is that it lets the customer feel ownership of the product and become a part of its journey. Once finished, they have had a chance to influence the final product which is what makes the product even more personalized and meaningful. With a similar thought process, businesses can engage easily engage their customers with personalized content on their mobile-ready website or their mobile app. If there's more to do for the customer, they'll eventually feel a greater sense of ownership of the product and service. Think about how Netflix, eBay, Amazon, Google, Facebook, and the likes personalize content and keep the engagement cycle thriving.
Making On-the-Go Easily Accessible
Smartphones have evolved enough to let the user handle every kind of task on it, tasks that were previously only imaginable on heavy desktop computers and laptops. This on-the-go accessibility has created a wider demand for users to switch completely or at least a major portion of their tasks to smartphones. Only tasks that required a bigger screen and a bigger processing power are done on desktops and laptops. Businesses can utilize this to create easier, simpler, and more effective processes that require mobile-friendly gestures such as tapping, swiping, pinching, etc. A good example is how Tinder based their entire user experience around a key gesture used on mobile devices; the swipe. So much so that swiping right or swiping left is now synonymous with something being good or bad. Make those gestures count!
Bringing Instant Information
As a mobile application design and development company, Virtual Force offers products and services based around the two most popular ecosystems; Android and iOS. We understand that instant access to information is crucial when providing a seamless experience on mobile devices. There has to be consistency in how everything flows within a mobile website or a mobile application. With expert UI and UX writers and designers, we create products that have the right tech stack, database, framework, and language to offer a holistic experience. We ensure that your mobile apps are enterprise-grade and help solve the problem your business may be facing; be it garnering audience attention, revenue generation, or more. We keep information instant and ready.
Innovating Customer Journey
An expert UI/UX designer cuts short all unnecessary stops and taps from a customer journey to keep things simple and seamless. When designing and developing a mobile app, that is the key factor. Every step of the customer journey can be innovated with greater engagement. From a mobile game to a delivery service app, the key to customer success is creating an experience that cannot be found elsewhere. Our mobile application design and development in NYC and the world is responsible for creating a huge number of mobile apps for our business partners. We love innovating and providing solutions that cut down costs, time and effort while increasing user engagement, endorsement, and business revenue.
Interested in getting an Android and iOS mobile app for your business? Want to engage a wider audience?
Feel free to contact us and we'll help you evolve your business into the digital landscape.
Get in touch with Virtual Force and let us know how we can help you!