We are Tech Agnostic
Our engineering team is diversely skilled in Web, Mobile, Cloud, and a range of technology stacks, frameworks, and programming languages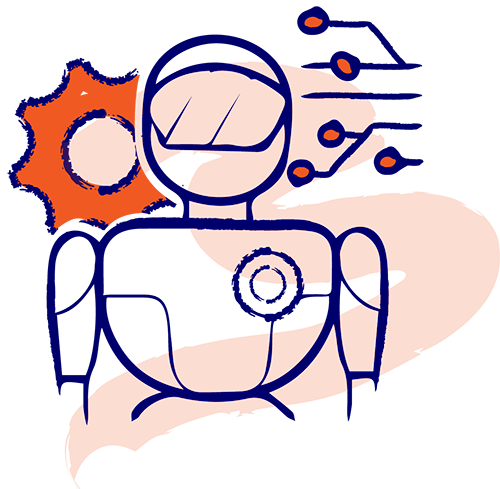 Engineered Approach to Success
For around 10 years, small and medium enterprises have trusted Virtual Force for their technology management needs.
As your tech partner, together we will innovate, scale and accelerate your technology team and plan your digital transformation. We are happy to assist you.
VF is trusted by enterprises, SMEs, and startups as their ideal tech partner. Our flexible, adaptable sprints enable us to meet diverse client needs. We provide exceptional product design and engineering resources to ship better products and achieve quicker customer success.
Our people, processes, and tools are synergized towards creating a solid foundation for success. We assemble a team of highly skilled product managers, design experts, and engineers to plan, design, develop, deliver and maintain technology projects.
Our Process
Delve into Emerging Technologies
Expertise in Diverse Tech Stacks
We think solutions beyond tech stacks. Being tech stack agnostic enables us to have an end-user centric approach on product features, user controls, and information flows. We do not limit our options in terms of code, libraries, and tech stack by technology selection. For us, tech stacks are just a means to an end.

IBM Watson

Blockchain

Android

iOS

Azure

AWS

Ruby on Rails

PHP

.Net

React Native

JavaScript

HTML

Objective-C

Slack

CSS

Hyperledger

Digital Ocean

Solidity

Travis

TensorFlow

Teamwork

Symfony

Swift

Redis

React

Python

Photoshop

Vue.js

Node.js

mySQL

Meteor

Lumen

Laravel

Kotlin

Jenkins

Ionic

Invision

Material Design

Balsamiq

Jira

GitLab

GitHub

Ethereum

Bootstrap

GitBucket

Backbone.js

Angular

Illustrator

AJAX

Power Point

Native Java

IBM Watson

Blockchain

Android

iOS

Azure

AWS

Ruby on Rails

PHP

.Net

React Native

JavaScript

HTML
Some of Our Disruptive Innovations