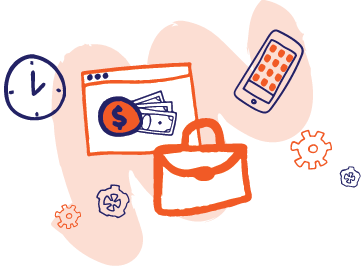 How Does a Fintech Solution Company Help Enable Customer Onboarding
In today's world when every interaction has been digitalized, we can clearly see the benefits of converting from a legacy payment system to a fintech solution company. With easy access to payments and a quick method of dealing with money, every customer feels safe and secure knowing that a previously time-consuming process can now be hassle-free and done on-the-go. We need more companies to invest in the fintech sphere so every payment process can be achieved and undertaken instantly and securely. As a fintech application development company, VF has strived to provide the best digital solutions to its customers. 
Here are a few ways we're making the payment processes more intuitive and efficient:
Instant Onboarding of Customers
For one of our technology partners, Aion Digital, we created a quick onboarding process that was contactless in lieu of the current pandemic situation. Our fintech software development company has been highly dedicated and involved in creating the best solution using the latest trends and best practices of UI and UX. The digital alternative onboarding process now requires only a few minutes tops in comparison to a week-long process of visiting the bank, providing credentials and then finally opening an account. This is helped our partners achieve a quick turnaround of customers as the process has been smoothed out significantly.
24/7/365 Support and Success
Any fintech intelligence company will ensure that the customers and their needs are held as the top priority. This is exactly what we achieved with our online fintech solutions. We created a system and process that first and foremost deals with customer needs. We designed the apps to be user-friendly so that a customer of any age group and tech understanding can log in and create their account in no time. Within the app, we provided customer support via chat, call or email to help them achieve the success they require. In any given tech solution, the main purpose is to create a seamless experience from point A to point B, and that is exactly what we do.
Replicating Solutions for Global Outreach
As a fintech application development company NYC based, we strive to provide a wide range of solutions to partners that may be anywhere in the world. As tech partners of Aion Digital, one of the leading fintech solutions in Bahrain and the Middle East, we took the locality into consideration. As such, we worked with them in creating various fintech solutions for their partners. We took into consideration the locality and designed the interface and experience according to the preferences of that demographic. Similarly, Virtual Force is able to work with global clients ensuring the best solution catering to their needs. Our portfolio that spans four continents is evidence enough of our capability to understand any and all markets.
Are you looking for a fintech technology partner?
Feel free to leave us a message and we'll get back to you on how we can help you!
Get in touch with Virtual Force and let us know how we can help you!